Helping ambitious women like you to confidently take charge of their life and career, overcome their personal glass-ceiling, and create a future they are excited about
- without burnout and self-sacrifice!
Next LIVE program commences Tuesday October 3rd U.S.A.  (Wednesday October 4th Australia)
Register Now
Do you face any of the following career challenges?
Difficulty saying 'no', setting boundaries or asking for help, which is leaving you overwhelmed
Hesitant to be authentic or speak up at work for fear of judgment
Overworking to prove your value or achieve perfection
Constantly people-pleasing in an effort to be liked or fit in
Struggling to move forward in your career due to self-doubt and lack of confidence
Unable to secure a promotion or raise when you feel you've earned it
Lack of motivation and seeking more purpose and fulfillment at work
You're not alone. 
Don't miss your opportunity to overcome your challenges in this life-changing program while building connection and community with other like-minded ambitious women.
The most powerful leaders start by leading themselves first, before others.
Grow into your potential, and feel equipped to  tackle the increasingly complex challenges life & work throw at you. 
Unstoppable Leadership is a unique development program that will give you the tools and expertize to grow into your personal or professional potential.
While other leadership programs focus on specific technical capabilities molding you into an external definition of leadership, we instead help you become authentically you by peeling back the layers that you have developed over time.​​
Participants complete the program with a deeper understanding of themselves, greater clarity on their vision, confidence to go after what they want, and most importantly, have a new sense of freedom from past challenges and are ready and excited for what's next.​​​  ​
What program participants say...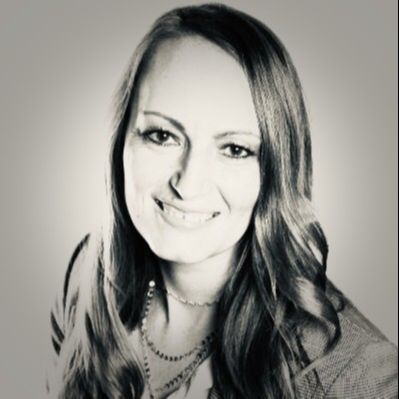 Cassie Jeppson
Director, Lenovo
Unstoppable Leadership was one of the best leadership courses I've ever participated in. Get out of your comfort zone, experience real growth and development, learn to get out of your own way and get the most authentic feedback of your career. I'd recommend this course and Rema's coaching to anyone looking to dramatically accelerate their personal and professional development.
Rose Princi
What an incredible life-changing program led by an amazing coach in Rema. It was the right program at the right time in my life and my career, and I met a great group of women who went on the journey together but in our own unique way. It exceeded my expectations in terms of personalisation, delivery, and content. If you are at cross-roads in your career and not sure what your next move is, dive in and do this program. You won't regret it!
Camila Chen
General Manager
I have learnt to accept myself for who I am.. and do not have to feel obligated or guilty if I can't meet everyone's requirements.
I have learnt to speak up and voice out, be firm and also more confidence in my speech. I have also learnt to say NO.
It is a very empowering program. The takeaway benefits are priceless.
WHO IS THIS PROGRAM FOR?

​
​
No matter what stage you're at in your life or career, this program can empower you to take the next step and make a lasting impact.
New or aspiring leaders
Keen to know how to move up that career ladder without burning out in the process?
Career-driven women
Ready to achieve more if you could only get out of your own way?
Ready for a promotion
Want to build up your skills and confidence to show management you're ready for more responsibility?
Lacking confidence
Suffering from imposter syndrome and unsure if you've got what it takes?
Unsure about next step
Need some guidance about how to reach your potential?
Unstoppable Leadership is a life-changing program for ambitious women
We'll help you identify and breakthrough what has been holding you back, and develop the clarity for what you want, and the confidence to achieve amazing things in your life and career
Live online training
Two-hour weekly Zoom sessions where you can interact with your coach and like minded women and ask questions
Group and hot-seat coaching
Participate in lively group coaching and have in-depth, hot-seat coaching with your coach about your specific concerns and challenges
8-week program
Comprehensive, jam-packed schedule designed to keep the ideas and momentum flowing
12-month course material access
Download materials so you can refer back to them whenever you need a boost
Unstoppable Community
Connect with other program participants and be motivated, inspired and supported on your journey of self-discovery and growth
Self-Awareness
Understand your values, what you want, having aspirations, and being aware of what holds you back, like the triggers, behaviors, thoughts and emotions that create a personal glass ceiling.
Self-Motivate
Inspire yourself towards achieving your goals. Finding purpose and meaning to build your drive to start and maintain momentum towards your goals. Being proactive, and charting your own course rather than waiting for others to direct you.
Self-Manage
Develop the agency and accountability to make decisions aligned with your personal & professional goals and values, and exercising heathy responsibility for what you can control.
Self-Regulate
Identify your limiting beliefs, recognize your inner critics and stories to productively manage and control your thoughts, emotions, and behaviors. Not letting negative emotions or a fixed mindset dictate your behavior.
Words from more participants...
Jessie Espinosa
Business Owner
I never knew how powerful understanding core values are and how values contribute to feeling 'stuck', setting intentions and goal setting.
I understood what was stopping me from achieving my goals. Gaining a deeper understanding of the "why" in what's stopping me has made a great difference. 
I am catching myself in old behavioural patterns. I ruminate and procrastinate much less. I've also achieved a lot in my business in the last four months, having gained clarity and confidence.
Stephanie Moring
Founder
I feel a lot more at peace with some things others say. I feel a more compassion and curiosity. I 100% feel more confident. I feel like I am less in my own way. I also love that I feel I have tools to apply to other areas of my life.
Having the confidence to leave my well paying job and go out on my own. I went back and forth in my head so many times but I wanted a big safety net "just in case". I highly doubt I would have made the change if I hadn't grown from the course.
I just didn't realize how good it was going to be. It far exceeded my expectations. I was so engaged and for me to stay tuned in for two hours usually takes some effort!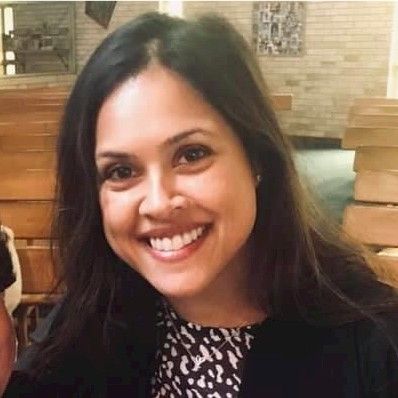 Sharlyn Gonsalves
Partner Manager
You are the best serendipitous encounter yet! So glad we crossed paths when we did and love the energy and passion you have for this work. It has meant the world to me to work with you, feel heard and supported and you and the program have given me the confidence to start to open my wings.
It was transformative, engaging, inclusive and powerful. I came in looking for a life jacket and through the course of the program gained insights around my shadows, pivoted from surviving to thriving, learnt more about who I am, found my voice, tribe and MYSELF.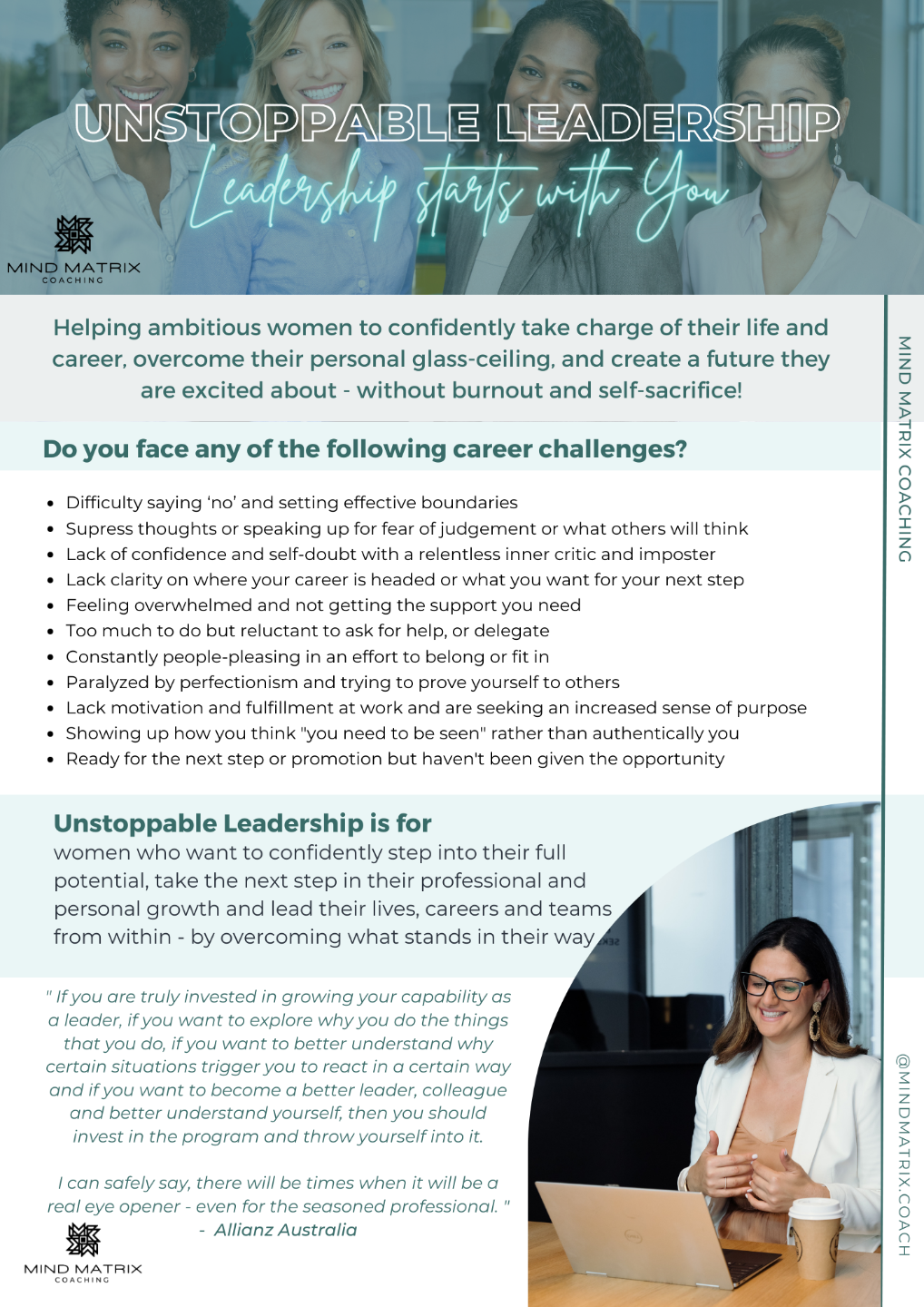 Download the Program Overview
Hi, I'm Rema. As an experienced Leadership & Career Specialist, I help clients identify what they want and how to get out of their own way in order to achieve their personal and professional goals.
For the longest time, I thought my value came from making others happy. Putting everyone before myself. Caring too much what others thought of me. Wanting to be perfect.
Eventually, I realised that this self-sacrificing and people-pleasing was hugely damaging and contributing to my long-lasting burnout. I needed to reassess how I valued myself and what type of contribution I wanted to make.
I left my high paying salary in the corporate world in the middle of a pandemic, with a new mortgage hanging over my head, to focus on following my passion to help women living the same.
My background in corporate leadership equipped me with the knowledge and skills to help women shift their thinking and behavioral patterns to overcome whatever's standing in their way. I create a safe, judgement-free space where my clients can freely express and explore their inner world, grow their awareness, and break through their challenges.
I look forward to guiding you through your journey of self-discovery and growth.
More About Rema
We've packed this program filled with everything you'll need both now and into the future to transform your life and career. For one upfront payment (payment options available) you'll get access to all the course materials and tools, access to the group and one-on-one coaching sessions, and membership to a community of like-minded women.
Unstoppable Leadership: LIVE
In this 8-week program, we will cover the key ingredients for successful self-leadership, including Self-Awareness, Self-Motivation, Self-Management and Self-Regulation.
This program is filled with everything you'll need both now and into the future to transform and take control of your life and career.
For one upfront payment you'll get access to 8 LIVE online training sessions, all the course materials and tools, access to the group and hot-seat coaching, 1:1 coaching sessions, and membership to a community of like-minded individuals.
$2500 USD
Register Now
What do you mean by 'live training'?
I'm already an experienced leader. What will I get from the program?
I don't work in the corporate environment, but I feel like I need some guidance in life. Is this program for me?
How much time will I need to dedicate to the program each week?
How many people will be in the program?
When does the next program open?